Data Recovery - recovering appointments from .TRA files
Posted by Jane Hughes on 27 September 2019 08:19 AM
Overview:
When an appointment is made in SPM, details are (usually) written to a .TRA file in the data directory.
If a new patient is created in the appointment book as part of a new appointment, this is also written to the file.
This can be disabled by setting SpmSystem.ssy_DisableAppointLogfile to a non-zero value.
The log file will be named by year, e.g. "Audit 2019.tra".
The log file is a very simple (crude) format, just dumping the field values in the Spm.Appoint (and/or Spm.Patient) table.
Only the key tables are recorded, so no 'contacts', 'operation details', etc.
If two operators create appointments simultaneously, the logfile *should* be written with both entries.
The utility FromAudit.exe is an old and *very* crude tool to dump information from the logfile.

FromAudit:\\isw-nas\ExeFiles\Fixup\fromaudit.exe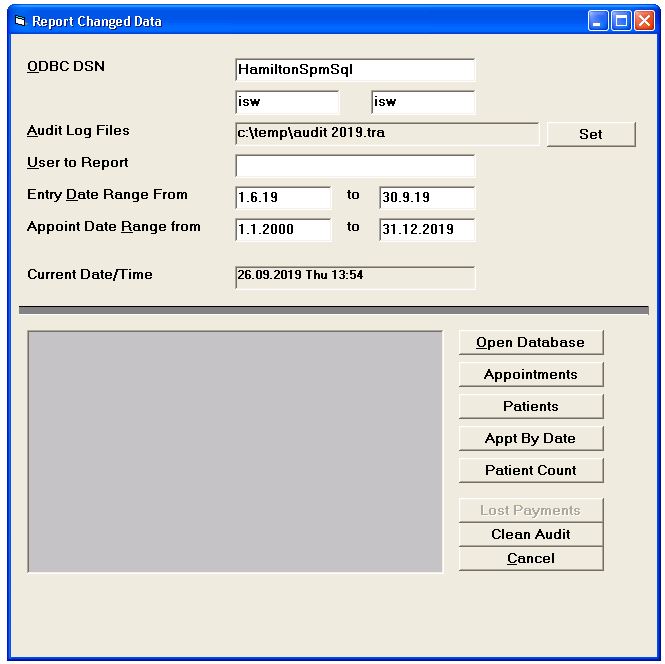 This program can be run from any directory.
Settings are persisted to FromAudit.ini.
Only a few of the buttons can be expected to work without changes to the source code.
Only the 25 Sep 2019 compile, or later, can work with sql server databases!
Enter DSN, login, password from spm.ini. Password can't be obfuscated.
Click [Set] to point the program to the audit file.
Note that the *.trc files are similar logfiles created when patients are consolidated.
Ignore 'User to Report'.
The program requires both a date range for when appointments where ENTERED, and also
a date range for the DATE of the appointment.
Click [Open Database]
Click [Appointments]
This will create a printed report and also a csv "Appointment_Audit.csv"
---